Holidays and special events make it hard to a stick to your diet, especially when candies, cookies and other sugary treats are involved.
Marred by sweets and all kinds of baked goods, Valentine's Day can be an especially difficult holiday for eating healthy. With so many things to indulge on, it can be hard to celebrate and enjoy time with your loved ones while trying to avoid all of these things in front of you. Instead of stressing yourself out, try out these healthy homemade desserts this time around. That way, you can still satisfy your sweet tooth with natural sugars and ingredients without having to worry about those calories. These four ideas will help to make this Valentine's Day a happy and healthy affair:
1. Raspberry and chocolate tartlets
The perfect balance between sweet berries and savory chocolate, this dessert from William Sonoma is a colorful, and romantic treat.Because raspberries are full of vitamin C and other antioxidants, this this dessert won't leave you feeling guilty.
Ingredients:
1 roll of basic tart dough
8 oz semisweet chocolate, chopped
6 Tbsp. unsalted butter
2 Tbsp. light corn syrup
1/4 cup raspberry jam
4 cups fresh raspberries
Fresh mint for garnish 
Directions:
Use a cookie cutter or sharp knife to create small 2 1/2-inch rounds with the dough. Re-roll any scraps to create as many as possible. Transfer the round to a tart pan. Pat the dough firmly along the bottom and up the sides, trimming off any extra dough. Refrigerate or freeze the shells until firm. Preheat the oven to 375 degrees in this time.
Place shells on a baking sheet with aluminum foil or parchment paper around each tartlet. Bake for about 15 minutes or until golden. Take off the foil and bake for another 5 minutes. Remove from the oven and let the tartlets cool.
Use a double boiler or otherwise boil water in a pot, and place a sauce pan so it sits just above the water. in the pan, melt the butter, chocolate and corn syrup, and stir until smooth. You may also melt the chocolate using the microwave.
Use a mesh sieve to remove any seeds in the jam. Spread 1 teaspoon of jam into each tartlet shell before filling with chocolate. Let the completed tartlets set for an hour or two. Before serving, top each tartlet with fresh raspberries. Garnish with a mint leaf.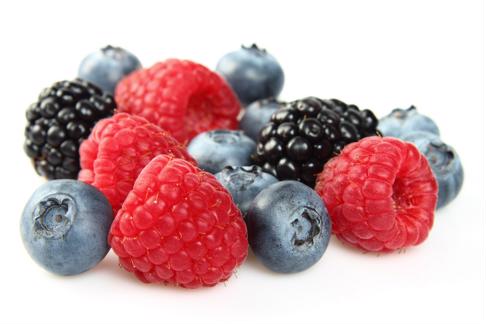 2. Flourless honey-almond cake
Combining heart-healthy almonds with the natural sweetness of honey, this dish from EatingWell is a unique addition to your holiday celebration. This dessert is also gluten-free.
Ingredients:
Cake:
1 1/2 cups whole almonds, toasted
4 large eggs
1/2 cup honey
1 tsp. vanilla extract
1/2 tsp. baking soda
1/2 tsp. salt
Topping:
2 Tbsp. honey
1/4 cup sliced almonds, toasted [lists mirror the source]
Directions:
Preheat oven to 350 F. Line a 9-inch spring-f​orm pan with parchment paper and cover with cooking spray.
In a bowl, beat 4 egg yolks, 1/2 cup of honey, vanilla extract, baking soda and salt with an electric mixer. Add whole toasted almonds to a blender and process until finely ground before transferring to egg mixture. Beat on low until well-combined. In a separate bowl, whisk the egg whites until very foamy and white but not stiff enough to create peaks. Use a rubber spatula to gently fold the egg whites into the nut mixture until well-combined, creating a smooth batter.
Scrape the batter into the prepared pan and bake the cake for about 28 minutes or until golden brown. Remove from oven and let cool for 10 minutes before removing and transferring to a serving platter. Top with honey and sliced almonds before enjoying.
3. Dark chocolate-dipped strawberries
Perhaps the most romantic Valentine's Day treat is a place of chocolate covered strawberries. Dark chocolate and natural strawberries make for a rather healthy dessert. Use this recipe from The Kitchn to make the best, most delicious final course possible.
Ingredients:
1 pint of fresh strawberries
2 cups dark chocolate
1/2 cup white chocolate
Directions:
Wash and completely dry the strawberries. In a saucepan or metal bowl over a pot of boiling water, melt the chocolate, stirring occasionally until smooth. Remove from heat and transfer to a workstation with your dry strawberries and baking sheet lined with parchment paper.
One at a time, dip each strawberry into the chocolate. Turn each berry slowly to ensure a full coating and gently shake to remove any excess chocolate. Place each strawberry on the parchment paper before placing the baking sheet in the fridge to let the chocolate cool and set.
As the dark chocolate gets close to setting, melt the white chocolate in the same manner as before. Add the white chocolate to a plastic bag to evenly drizzle the white chocolate over your strawberries. Let the white chocolate set before enjoying.
4. Raspberry mouse pie
This dessert is light and utterly delectable. Martha Stewart's recipe is especially enjoyable and the perfect way to celebrate Valentine's Day.
Ingredients:
7 graham crackers
3 Tbsp. fresh lemon juice
2 1/4 cup powdered gelatin
5 cups fresh raspberries
1/2 cup sugar
2 cups cold heavy cream
An additional 2 Tbsp. sugar
Directions:
Line a 9-inch baking pan with parchment paper and coat with cooking spray. Arrange graham crackers in an even layer across the bottom, breaking into smaller pieces if necessary. In a small bowl, combine lemon juice and a sprinkle of gelatin. After 3 minutes, the gelatin should soften.
In a blender, puree 2 cups of raspberries until smooth. Pour the puree through a mesh sieve into a measuring cup to remove any solids. In a saucepan, combine the raspberry puree and 1/2 cup of sugar over medium heat until bubbles form. Add the gelatin-lemon juice mixture and stir continually until the gelatin dissolves. Transfer to a bowl and let cool at room temperature for about 20 minutes.
In a large bowl, beat the cream and 2 tablespoons of sugar with an electric mixer until firm peaks form. With a rubber spatula, fold in raspberry puree and mix evenly. Pour puree over gram crackers. Once settled, arrange remaining strawberries over top. Place the mouse in the fridge to firm overnight or for a minimum of 2 hours. Use a knife to gently cut the finished pie into small servings. 
on Mon, 02/13/2017 - 6:46pm
MD for Seniors